French Bulldog Puppies For Sale
Would you like to get your hands on our 39 page eBook "The Imperfect Owners Guide To Training Your Frenchie!"  for FREE…?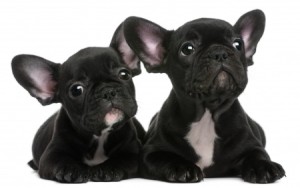 Once you've decided on which
French Bulldog puppies for sale
you are going to buy, you need to start preparing for the little mite's arrival. It will be an exciting day for sure, but you need to be prepared.
Consequently you should get as much in as you can before the arrival of your puppy.
French Bulldog
puppies are sometimes rather a handful, particularly in their early years, so be warned and be prepared!
First Time Frenchie Owner
Now, if you haven't had a Frenchie (or indeed any dog) land on your before, it could be a bit of a shock. It's true, they can be so much fun, however French Bulldog new puppies can be just a little awkward (and bull headed) to deal with throughout the early part of their lives. Having said that, the rewards are most definitely all worth it at the end of the day.
First things first, make sure you get the best equipment for your new puppy. Like crate, bed, toys etc. Higher quality means better safety as a general rule. But, by far the most important aspect is, the training. Make sure you get the best trainer you can and if they have any experience with French Bulldog puppies all the better. Fail to train your puppy correctly early on and you will potentially have trouble for the rst of the dog's life. They can be somewhat headstrong, particularly if not trained correctly.
Bed – A Favorite Place
So, your new pup's bed. A cable crate, with a bed in it usually works really well. As for dimensions, probably the best for a Frenchie pup is something near to 24″ X 16″ X 18″. Not too obtrusive. The most effective part regarding use of a wired crate is that it is very easy to transport. As soon as you take the bed linen out, you can quickly and easily fold the crate and pack it up. In the winter, you may additionally want to make sure the crate has a covering and ensure the crate is wawy from draughts so that your French Bulldog puppies can stay warm.
This will become a favorite place for your dog, French Bulldogs are known to like a lie in, in the morning! Most owners I know do tend to leave the crate up during the day. This wonderful breed does have a lack of stamina so they are liable to toddle along for a nap at any time if it all gets a bit much.
And, of course, you need bowls for food and water.
Otherwise enjoy the fun and friendship your new puppy is sure to bring you!