This depends greatly on what type of French Bulldog breed you wish to purchase. Blue French Bulldogs are generally much more costly that a Brindle or other more common breed. But you must remember that as a potential new and responsible Frenchie owner, you must never make the price of your French Bulldog an issue.
What I mean is don't opt for a cheap puppy on some Instagram page, or a classified for sale page.
There are many so called sellers of French Bulldogs that over breed their dogs for profit, and this will result in a greater chance of defects and issues in the long run for your poor Frenchie puppy that you lovingly may have just purchased.
Do weeks of research so you have a solid idea of your French Bulldog price and any associated costs that will follow. Buying a French Bulldog humanly and through the proper channels is as important as it ever was.
Do not take that decision lightly! If you are in any doubt, ask certified and reputable breeders such as http://www.frenchbulldogclub.org/
One thing is for sure, once you have bought your puppy or Blue French bulldog it is very unlikely you will want to sell him or her any time soon! Your new Puppies will certainly not let you get bored – because they won't! They won't get get fed up playing, entertaining you and generally being fun to be with!
They are in a good mood pretty much all of the time and always ready to play and have fun.

What To Look Out For When Buying a French Bulldog
A French Bulldog Breeder will house the dogs in properly designed buildings created specifically for breeding small pets. there will be ample space for young pups to run and play about and more importantly to socialize with other dogs. All the new puppies and their moms must stay in properly divided structures to ensure personal privacy particularly for the first eight weeks of their lives.
Structures need to be kept cleansed daily to ensure healthy living quarters for the puppies, clean water and meals need to be available at the proper times. Also ensure that you get all the certificates of breeding and for any treatments the puppies may have had whilst still with the breeder.
The French bulldog is becoming more and more popular these days and makes  a great companion dog. The appearance of the little muscular body with desirable eyes, screwed up nose and ears that appear too big will certainly attract the majority of people. Training is one area that is vital.
Your Breeder Should Undertake Some Initial Training…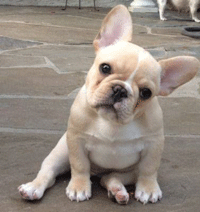 But make sure your pup is trained properly from the word go. Always have an adult involved even if the dog was bought for the kids!
Frenchies can be a little head strong and may be a tad awkward to train properly. If this is not completed correctly early in the puppy's life, it will make the older dog more awkward to deal with…and you will miss out on a lot of the fun these fabulous dogs can offer.
The training must handle how your frenchie should sit, come closer, to live and to sleep, etc. These instructions are an essential part of the dog's daily life.
Finally, it is recommended that you take your frenchie to a vet check twice a year. French Bulldogs can have health problems due to their stature and body shape and it is extremely important, as with any pet, to make sure they are always happy, healthy and free from any issues.
Their breathing can also be a problem due to the shape of the head and the way the nose is situated. They can also respond extremely quickly to allergic reactions, so just be aware of this.
Finding The Best French Bulldog For Sale
It can be hard to do that without any previous knowledge about this breed, but we are here to help you every step of the way. With our help you will be able to understand the cost of a french bulldog and you will also be able to see if they are a good investment or not.
Then you have to see the medical records. Some dogs had diseases and that's why they are less expensive when compared to others. It might not sound like much, but these things can make quite a difference, so you do need to approach them with seriousness and professionalism as that matters quite a bit.
So How Much Does The Average French Bulldog Cost?
The cost of a french bulldog does depend on a variety of factors. Most of the time the important factor is their age. Obviously, puppies are less expensive when compared to an older dog. This is the main reason why you should consider purchasing a puppy, because the initial investment is less of a challenge when compared to opting for a grown dog. It might be a problem at first though, but with the right approach the experience will surely pay off.
If you really want to buy a french bulldog, you should consider having a suitable budget. The price of french bulldogs for sale usually goes anywhere from $300 and it can go upward to $2500 or even more. As we mentioned earlier, factors like age, maintenance and medical records might actually increase the price of your dog, so you should definitely keep that in mind. Obviously, if you have a smaller budget you should try to find a puppy or a similar option that's less expensive.
Usually, you shouldn't go for the more expensive dogs unless you have some previous experience with the breed in the first place. They might not be that easy to cater for, which is why opting for french bulldogs puppies is the best approach that you can think of. Yes, there will be a few challenges and issues that need to be ironed out, but in the end everything will be a lot easier to deal with which is exactly what you want in the first place.
How to avoid costly mistakes when purchasing your new French Bulldog
When you are ready to start looking to buy a French Bulldog puppy you may begin your search for a breeder online. A simple internet search will probably give you a variety of results but, if you want to find a reputable breeder, you may have to dig a little deeper and look at more than the price and overall cost.
The French BullDog Club of America and The French Bulldog Club of England are great places to start. Compile a list of breeders from whatever sources you can and then take the time to go through each option to determine whether the breeder is reputable and responsible or not. You do not want to run the risk of purchasing a puppy from a hobby breeder or from someone who doesn't follow responsible breeding practices. This will be far more costly for you and your Frenchie in the future.
If you aren't careful about where you get your puppy, you could end up with a puppy that is already sick. Once you have your list of breeders on hand you can go through them one-by-one to narrow down your options. Go through the following steps to do so: Visit the website for each breeder on your list (if they have one) and look for key points about the breeder's history and experience. Check for club registrations and a license, if applicable.
If the website doesn't provide any information about the facilities or the breeder you are best just moving on. After ruling out some of the breeders, contact the remaining breeders on your list by phone Ask the breeder the following questions:
• How old are the parents?
• Can you provide me with the health clearances of the parents?
• Why did you decide upon this particular breeding?
• Can you tell me about the dogs in the 3-generation pedigree?
• How did you raise the puppies?
• Have you started training and socializing?
• Can you provide references from previous buyers?
The answers to these questions must be along these lines: The female dog must not be younger than 18 months and the male should not be younger than 12 months. Dogs must be given time to mature before being bred.
The breeder must be able to present you with a Canine Health Information Center number as an assurance that the parents were screened and deemed healthy and fit to be bred. The answer should have been well-thought out and it should include a rational objective. A good breeder will be able to give you a detailed account of the 3 generation pedigree without batting an eyelash because he knows it by heart and he is proud of it.
The breeder should have already started introducing the world to the puppy and should be able to teach you how to continue training and socialization. A good breeder stays in touch with the owners to aid so he should be able to give you references.
Expect a reputable breeder to ask you questions about yourself as well – a responsible breeder wants to make sure that his puppies go to good homes. Schedule an appointment to visit the facilities for the remaining breeders on your list after you've weeded a few more of them out.
Ask for a tour of the facilities, including the place where the breeding stock is kept as well as the facilities housing the puppies. If things look unorganized or unclean, do not purchase from the breeder. Make sure the breeding stock is in good condition and that the puppies are all healthy-looking and active. Narrow down your list to a final few options and then interact with the puppies to make your decision.
Make sure the breeder provides some kind of health guarantee and ask about any vaccinations the puppies may have already received. Put down a deposit, if needed, to reserve a puppy if they aren't ready to come home yet. Tips for Selecting a Healthy French Bulldog Puppy After you have narrowed down your options for breeders you then need to pick out your puppy. If you are a first-time dog owner, do not let yourself become caught up in the excitement of a new puppy – take the time to make a careful selection.
If you rush the process you could end up with a puppy that isn't healthy or one whose personality isn't compatible with your family. Follow the steps below to pick out your French Bulldog puppy: Ask the breeder to give you a tour of the facilities, especially where the puppies are kept. Make sure the facilities where the puppies are housed are clean and sanitary – if there is evidence of diarrhoea, do not purchase one of the puppies because they may already be sick.
Take a few minutes to observe the litter as a whole, watching how the puppies interact with each other. The puppies should be active and playful, interacting with each other in a healthy way.
Avoid puppies that appear to be lethargic and those that have difficulty moving – they are most probably sick. Approach the litter and watch how the puppies react to you when you do. If the puppies appear frightened they may not be properly socialized and you do not want a puppy like that. Some of the puppies may be somewhat cautious, but most of them should be very friendly, curious and interested in you.
Let the puppies approach you and give them time to sniff and explore you before you interact with them. Pet the puppies and encourage them to play with a toy, taking the opportunity to observe their personalities.
Single out any of the puppies that you think might be a good fit and spend a little time with them. Pick up the puppy and hold him to see how he responds to human contact. The puppy should be affectionate and playful. It shouldn't be frightened of you and it should enjoy being pet. Examine the puppy's body for signs of illness and injury The puppy should have clear, bright eyes with no discharge.
The coat should be even, no patches of hair loss or discoloration. The ears should be bat ears, clean and clear with no discharge or inflammation. The nose should be black. The only time lighter colored noses are acceptable is if the dog's color is lighter as well.
If you're entertaining the idea of entering your French Bulldog in shows, don't purchase the following colors: solid black, mouse, liver, black and tan, black and white. These are disqualifications for the breed standard. The puppy's stomach may be round but it shouldn't be distended or swollen. The puppy should be able to walk and run normally without any mobility problems. Narrow down your options and choose the puppy that you think is the best fit. Once you've chosen your puppy, ask the breeder about the next steps.
Do not take the puppy home if it isn't at least 9 or 10 weeks old because French Bulldogs may become petulant and nasty when separated from their mothers and their litter too soon. And of course you have to make sure that it has been fully weaned and is already eating solid food.