The Sale and Adoption of French Bulldogs
One thing is for sure, once you have bought your French bulldog puppy it is very unlikely you will want to sell him or her any time soon!
Your new Puppies will certainly not let you get bored – because they won't! They won't get get fed up playing, entertaining you and generally being fun to be with!
They are in a good mood pretty much all of the time and always ready to play and have fun.
What To Look Out For When Buying a French Bulldog
A French Bulldog Breeder will house the dogs in properly designed buildings created specifically for breeding small pets. there will be ample space for young pups to run and play about and more importantly to socialize with other dogs. All the new puppies and their moms must stay in properly divided structures to ensure personal privacy particularly for the first eight weeks of their lives.
Structures need to be kept cleansed daily to ensure healthy living quarters for the puppies, clean water and meals need to be available at the proper times. Also ensure that you get all the certificates of breeding and for any treatments the puppies may have had whilst still with the breeder.
The French bulldog is becoming more and more popular these days and makes  a great companion dog. The appearance of the little muscular body with desirable eyes, screwed up nose and ears that appear too big will certainly attract the majority of people. Training is one area that is vital.
Your Breeder Should Undertake Some Initial Training…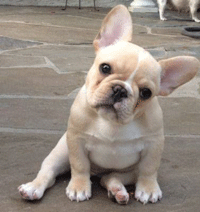 But make sure your pup is trained properly from the word go. Always have an adult involved even if the dog was bought for the kids!
Frenchies can be a little head strong and may be a tad awkward to train properly. If this is not completed correctly early in the puppy's life, it will make the older dog more awkward to deal with…and you will miss out on a lot of the fun these fabulous dogs can offer.
The training must handle how your frenchie should sit, come closer, to live and to sleep, etc. These instructions are an essential part of the dog's daily life.
Finally, it is recommended that you take your frenchie to a vet check twice a year. French Bulldogs can have health problems due to their stature and body shape and it is extremely important, as with any pet, to make sure they are always happy, healthy and free from any issues.
Their breathing can also be a problem due to the shape of the head and the way the nose is situated. They can also respond extremely quickly to allergic reactions, so just be aware of this.
Finding The Best French Bulldog For Sale
It can be hard to do that without any previous knowledge about this breed, but we are here to help you every step of the way. With our help you will be able to understand the cost of a french bulldog and you will also be able to see if they are a good investment or not.
Then you have to see the medical records. Some dogs had diseases and that's why they are less expensive when compared to others. It might not sound like much, but these things can make quite a difference, so you do need to approach them with seriousness and professionalism as that matters quite a bit.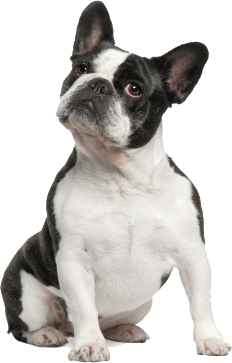 So How Much Does The Average French Bulldog Cost?
The cost of a french bulldog does depend on a variety of factors. Most of the time the important factor is their age. Obviously, puppies are less expensive when compared to an older dog. This is the main reason why you should consider purchasing a puppy, because the initial investment is less of a challenge when compared to opting for a grown dog. It might be a problem at first though, but with the right approach the experience will surely pay off.
If you really want to buy a french bulldog, you should consider having a suitable budget. The price of french bulldogs for sale usually goes anywhere from $300 and it can go upward to $2500 or even more. As we mentioned earlier, factors like age, maintenance and medical records might actually increase the price of your dog, so you should definitely keep that in mind. Obviously, if you have a smaller budget you should try to find a puppy or a similar option that's less expensive.
Usually, you shouldn't go for the more expensive dogs unless you have some previous experience with the breed in the first place. They might not be that easy to cater for, which is why opting for french bulldogs puppies is the best approach that you can think of. Yes, there will be a few challenges and issues that need to be ironed out, but in the end everything will be a lot easier to deal with which is exactly what you want in the first place.
Plus, it's hard to pay a premium for a dog unless you know that you are able to care for it properly. Usually the more expensive french bulldogs will require a special diet and they might also have specific needs, they might be champions at dog shows and so on. This is why such a dog can be quite the investment.
Regularly, a healthy french bulldogs will end up costing you $250-$700, so try to save this kind of budget if you want to get one! Remember, you will also need to get accessories, food and other stuff when you get the french bulldogs for sale, so keep that in mind when you settle for a specific price.